Hello all,
I've been looking at parks for a few months now, but have always found something fairly quickly to make me drop the idea. This is the first park where I've gotten to the point where I'd like to put in an offer. I'd love feedback on how I'm going about the analysis.
Details:
• 55+ park in Massachusetts, not rent controlled (I've done a fair amount of research into parks in MA and read the AG's report, and I'm ok accepting what it means to be a park owner in MA), asking price $1.2M
• 35 lots, all occupied, all TOH, history of high occupancy, $380 lot rent. History of raising lot rent $10-15/year
• all city utilities, water/sewer/trash paid by park
• 4 other 55+ parks within 3 miles, mostly nicer, all with similar lot rents and utility structure
• avg home price over $200k
• onsite manager getting free lot rent but nothing else to be eyes and ears and do some minor maintenance
• current owner has owned for 8-9 years
Here's my reconstruction of the P&L
The law in Massachusetts allows tenants to have the right of first refusal on the terms of a signed deal, if they want to turn it into a co-op. This park went under contract late last year and the tenants tried to do a co-op, but backed out late and the original buyer backed out too. However, the tenants commissioned a third-party report that showed the following in deferred maintenance:
The report also made the following judgments on the state of the infrastructure: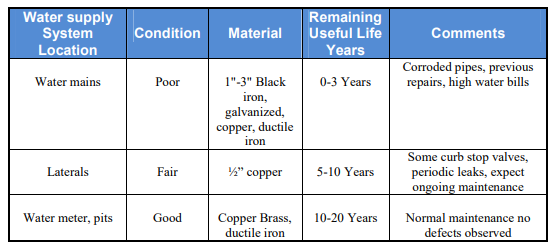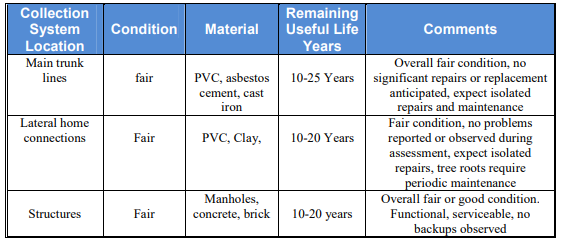 Comments on the findings of the report:
• The seller thinks replacing the water distribution system is ridiculous, and when he had leaks previously, was able to find them and fix them for far less. Instead he suggests crawling under each mobile home and listen for leaks with an acoustic detector, and if that doesn't identify leaks as it has in the past, install 4 access pipes over the water mains and detect leaks using leak noise correlators. He estimates no cost to do acoustic detection, probably no more than $5k - $10k to repair, and perhaps $40k - $50k to install access pipes and utilize correlators if it comes to that with repair costs of $10k - $30K.
• The park is in a depression relative to surrounding land and has flooding issues after a hard rain. As much as a couple feet of standing water. The drainage improvement is to rectify that. It is in a FEMA flood zone, but there are no major water sources nearby. The repair estimate was done without engineering plans and seems to be a ballpark guess more than anything else.
So, my questions are:
• Does anything on my P&L seem wildly off? I believe there's no mowing or landscaping required by the park, so I don't have line items for those.
• On the findings of the report about needed capital improvements, the seller thinks there's $24k in excess water expense caused by the leaks. He proposes doing what he lays out and then having the buyer reimburse him for what he spends. The seller has no intention of doing any of the other items mentioned. Is it unreasonable to ask the seller to foot the bill for the drainage, paving, and tree pruning?
• The seller mentioned having to spend $12k a few years ago to fix two major water leaks. My assumption here, combined with the third-party report and the seller's reaction to it is that the infrastructure is going to require those kind of five figure infrastructure fixes on a regular basis going forward, and I should bake this either into an annual reserve build on the P&L or increase my required cap rate. Does that seem appropriate?
I tried to keep this posting as short as possible – I can give more details if helpful. Thanks to all.