@frankrolfe - could you take a few minutes and respond to this question - it's been burning on my mind for quite a while. Style and beauty has been democratized everywhere except the factory-made, affordable singlewide mobile home. Why? This makes NO sense. Mobile homes are the ideal candidate for the modern style treatment - they're rectangular boxes. Don't tell me it would be unaffordable to make a mobile home with horizontal cedar-toned siding, a modern-looking dark metal roof and dark framed windows. That formula is what makes tiny houses gorgeous. Yes TH's are expensive per-square-foot - but why? It's because they're usually hand crafted on a small scale and use very expensive materials. That issue is a non-issue today. If Target can sell me truly gorgeous writing desk of good quality for $79.99 - a desk that's at home in a million dollar house and makes my design-minded friends go "wow!" - then Clayton can do the same for a rectangle box house turned out by the thousands. IKEA also proved style and price are NOT mutually exclusive and style on a budget does NOT sacrifice quality. IKEA furniture is not the same quality as furniture costing 3X the price but it IS just as good as bland crap in the same price range.
Style is about color, proportion & texture - these are things which do not cost money. The industry is simply lazy and we the park owners tolerate it. Our product is visually embarrassing and to be honest - an eyesore. The homes had style in the 50's and 60's - but today's singlewides make you cringe when you look at them.
You want to make an upwardly mobile 20-something or 30-something couple with good jobs excited to live in trailer parks - WITHOUT spending megabucks restoring vintage trailers to a polished state of "hip?" Then do what Target did to kill its own market - bring style in at an affordable price in the new mass produced product.
The tiny house movement is fueled in large part by style - many tiny houses are crazy gorgeous. No we can't put real cedar siding on our factory product but there is no reason Clayton can't also make a synthetic siding material that looks gorgeous and modern as well. This tiny house is gorgeous - but this look could be done on a 14X70 factory product, no problem - if a product manager got off his fat lazy ass, hired a designer, talked with some engineers and materials scientists and got to work. Imagine THIS home for $35K:
Instead we buy these disgusting boxes straight out of a dystopian sci-fi movie - and wonder why everybody hates our parks and they have such a stigma: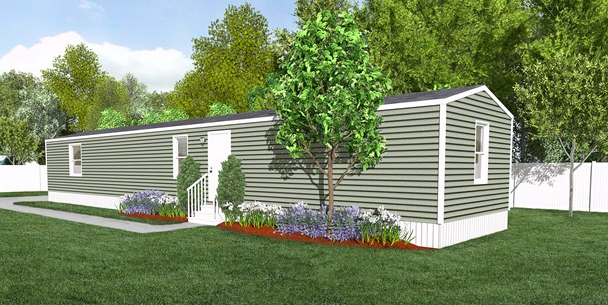 We are a long long way from the bad days of 2008. People have money to spend - why not give them something they WANT to buy instead of what they HAVE to buy? Now you could compete on something other than price and you'd be in tune with the aesthetic sophistication which has swept every area of modern consumer life except affordable homes.